Southport 2015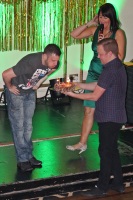 A very big thank you to everyone who supported my weekend in Southport and to my guest choreographers, Craig Bennett and Darren Bailey. We had a BRILLIANT time and it really was great to see everyone.
This was Craig's last Maggie G event after many years of guest appearances with me at home and abroad. Thank you Craig for such happy memories and a legacy of great dances! I wish you every success in your future career.
I taught two brand new dances - Simply the One and Tribal Heartbeat - and my latest High Improver dance Here's to Us.
On Saturday evening my dancers, Celtica Academy, gave a fantastic performance and I was also immensely proud of my two sons - Sean aged 8 and Gerard aged 6 - who also performed. This was Gerard's first Showtime performance and I know I'm their Mummy but they were both brilliant!!
Well done to our Sports theme fancy dress winners and all those who took part! Finally, a massive thanks to Big Dave, Pauline and Gwen.
---
Coventry 2014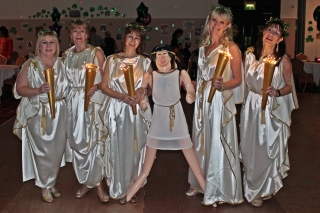 Our first Maggie G Experience Weekend in Coventry was a resounding success. The hotel was centrally situated for easy access from many parts of the UK. We have confirmed this venue for next year and tickets are selling very fast!
During the weekend I taught Dance It Up, Take These Days and my new waltz, Say It To Me. My special guest choreographer Dee Musk taught Moving As One, Quickly and Yours. A great set of dances - thanks Dee.
In his Early Bird sessions, our lovely DJ Big Dave taught Run Away With You, Rhythm Of Love and Samira. Very many thanks to Dave and Pauline for another great Experience Weekend! We saw a wide variety of dances requested by the various dance groups.
Our fancy Dress theme on the Saturday Party Night was "Nostalgia" and there were some marvellous costumes on display. Thanks to all who participated.
Senior and Junior dancers from my Celtica Academy provided the Saturday showtime spot. They performed several routines from our 2014 Celtica Charity Show. Thanks to Sean for stepping in while our lead male dancer is recuperating. (Best wishes Harry for a speedy recovery.)
Lastly, thank you again to everyone for your massive support and especially to those for travelling from mainland Europe. A special thanks to Gwen who was a great help to me and the dancers during this event.
---
Malta 2014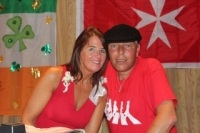 This was our first Maggie G Experience holiday in Malta, where we enjoyed exceptionally hot weather. In fact it was so sunny, hot and humid that we had to break with our tradition of taking all our workshops by the pool and retreat to the air-conditioned dance hall for most of these dance sessions.
Our dancers this year came not only from the UK but also from Norway, Sweden, Germany, Switzerland, Liechtenstein, Austria, Jersey and Guernsey. The hotel was well placed for visiting the tourist hotspots and various dancers enjoyed their trips out, including boat trips around the coast and to the islands where they swam among exotic and very colourful fish.
During the week I taught all my recent dances, including Superheroes (Advanced) and B*Witched Tonight (Intermediate), plus two new dances to be released later - Dance it Up and Crazy Stupid Normal. Other dances I taught included Marry that Girl, Just Add Moonlight and All About A Woman.
I was also very pleased to teach Love Runs Out, which had been taught the previous weekend by Ruben Luna at my Bournemouth Weekend event. This was very popular during the week.
Once again, our DJ was the lovely Dave Blake, who kept the floor buzzing with a great variety of dances - a difficult task for a whole week. He taught a few extra dances including Twist Twist Twist, Drop The Beat, Piano Man and Blue Birds. Thanks Dave!
Our fancy Dress theme for Party Night was "Red and White", the colours of the Malta flag. It was great to see how our dancers all entered into the spirit of the theme and the dance floor was a sea of colour.
I was recently nominated for an Ice Bucket Challenge to help raise money for Breast Cancer. Several others of our group were also nominated during the week and either accepted the challenge or donated. Thanks for all your help Dave - I think!!
Lastly, thanks again to everyone for your continued support, especially to Gwen who was a great help to me and the dancers during this event.
---
Bournemouth 2014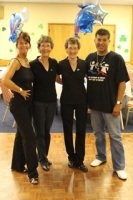 We returned to the The Carrington House Hotel, Bournemouth, for this year's Maggie G South Experience. My special guest on this occasion was Ruben Luna from America and we were honoured to have him on his first visit to England. Our DJ was my special friend Big Dave, supported as always by Pauline who did a great job organising us all.
I taught some of my latest dances, including Marry That Girl, All About A Woman and Superheroes, together with a recap of Just Add Moonlight. Ruben taught On Broadway, Treble and Love Runs Out, all of which were well liked by our dancers. Dave also taught Eternal Secret and Ain't Wot U Do for our early birds.
Our entertainment on both evenings was provided by five of my Junior Troupe from the Celtica Academy Irish Dance School in Coventry. This was their first time at one of my Line Dance Experience Weekends and the excepts from their recent Show were well received. (Well done guys!) Karl-Harry Winson joined us on the first evening and surprised everyone during the show with his version of Irish dancing!
Our fancy Dress theme this time was "The Sea" and our fancy dressers came up with some novel ideas! Thank you everyone for your continued support.
---
Portugal 2014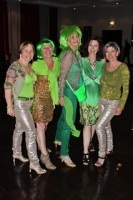 This was our second visit to the Vila Galé Lagos Hotel. This year my special guest choreographer was Darren Bailey and providing the music was our regular holiday DJ Dave 'The Rave' Blake. The weather was hot each day, which was great for our outdoor workshops by the pool and for sunbathing afterwards.
During the week, I taught Raggle Taggle Gypsy O, Eye To Eye, Got My Baby Back, Celtic Heartbeat, Just Add Moonlight, Crying For No Reason and I'm Only Human. Darren taught King of Jive, Cowboy Dreams and Young Volcanoes. Darren also gave us a Samba technique class, which demonstrated how we should Samba with style! My friend Dirk from Germany taught When The Boys Come Into Town.
Our tour host was once again Anja, who was always available to look after our needs, to confirm travel details or to make arrangements on our behalf. This year, she arranged a special late night dance at the beach bar just across the road from our hotel, a very easy walk after the evening social. The bar was opened especially for our party and we were able to dance well into the small hours to music supplied by DJ Dave.
We made many new friends during the week and I was pleased that all our party mixed very well. There were friends from many countries, including Austria, Belgium, Germany, Guernsey, Jersey, Norway, Switzerland and UK. It gave us all an opportunity to see a broad range of dance styles, which made for an entertaining holiday. This was also true on party night when Darren and Dave joined me for a short cabaret.
Thanks again to all those who came and to my special helper Gwen. We look forward to our return visit next year.
---
Southport 2014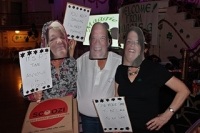 We had a fabulous time once more at our favourite venue, the Prince of Wales Hotel, Southport. I was fortunate this year in bringing together two brilliant entertainers, Roy Verdonk and Karl-Harry Winson. In the workshops, Roy taught his CBA dance Where's the Party, together with Borriquito and She Don't Get High. Karl taught two dances - Black Magic and So Contagious. I hope both Roy and Karl's dances are successful as they were popular with the dancers.
I taught four dances - Eye to Eye, Crying for No Reason, I'm Only Human, together with my brand new Intermediate dance Celtic Heartbeat. (The step sheet will be released later in April.) Big Dave, assisted by Dave Blake on Saturday, kept the dancers on the floor well into the early hours, on occasions really stretching our memories with old favourites. Big Dave also challenged our dancer's staying powers by teaching two additional dances: Hit the Floor and Man in the Mirror.
Saturday evening was fun and we saw some very interesting fancy dress ideas to the theme "Stars in their Eyes". Well done to our winners. Our showtime was also a great success. Celtica Academy delighted the audience and one of our youngest Irish dancers gave her first public performance, for which everyone, especially her Mum, was very proud.
As expected, we were privileged to have some brilliant Showtime entertainment from both Roy and Karl. Roy showed us his skills in a variety of showcase themes and Karl entertained us with his song "Mama Says" from the show Footloose. Thanks again to my entertainment team and to everyone who came, especially those who rebooked for a return visit next year, which is now sold out! And thanks to our key helpers behind the scenes, especially Pauline and Gwen.
---