Line Dance On-Line Classes
I am continuing with my on-line classes LIVE on Thursdays. Everyone is welcome!

Commencing every 6 weeks, a new on-line course will run for 6 WEEKS starting at 18:00-20:00 UK time. The classes feature brand new dances, classic dances and a fun dance party social. Payment and more details are on the Classes page. You don't have to be on Facebook!

Wherever you are in the world, I hope you will join me having fun dancing old and new dances. Please let Keeley or me know if there is anything you would like me to teach. ☘️☘️☘️
Dial A Dancer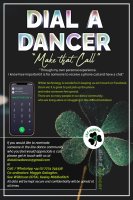 I am thrilled to launch this new project, Dial a Dancer, to make contact with those who are living alone or struggling during these difficult times.

Please click the poster for full details. If you would like a call or know of someone who would welcome a call please do get in touch, but if you/the person you are nominating are outside the UK please ensure you/they have WhatsApp.
Line Dance Classes
My line dance classes in Coventry, which I started over 20 years ago, cover all dance levels from Absolute Beginner to Advanced. If you have never tried this fun type of dancing, then you will be most welcome at my Monday evening class. No partner is needed and it is a great way to socialise and make new friends. For more details, please see the Classes page.
Line Dancing
I choreograph line dances and teach at classes in Coventry and at events, both nationally and internationally. I also teach on-line.

My many dances cover a wide range of styles and dance levels from Absolute Beginner to Advanced. I often introduce a new dance at events. The scripts for all my dances are on this official website. (For French translations of these scripts, please see the Dances A-Z Page.) I hope you enjoy them and have fun on the dance floor - to be sure, to be sure!!
Irish Dance Classes
My Irish dance classes, opened in 1990, are held in Allesley and Coventry and cater for all age ranges starting with the very young. These classes are part of my Celtica Academy Irish Dance School, with pupils aged 4 upwards. For more details, please see the Irish Dance Classes page and my Celtica Contacts page.
Celtica Academy
My Celtica Academy Irish dance troupes are trained in my Coventry-based Celtica Academy Irish Dance School and we give enjoyment performing at dance events nationally and internationally. We are well known for our local fundraising and support charity events when we can. We are proud to host a Charity Show every two years at the Belgrade Theatre in Coventry.
All my latest Celtica Academy news, classes, pictures and videos can be read on my Celtica Academy of Irish Dance Facebook, which is publicly readable.
Line Dance News
Some latest news highlights are shown on this page and on the News page, but my most up-to-date line dance news can be found on my publicly-readable Facebook. I hope you find the information of interest.
Bookings
If you would like to book me for your event, please email your enquiry - see Contact Us page for details.
Happy dancing!

Love, Maggie.