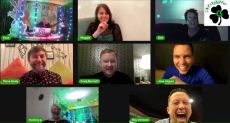 ---
Gary & I have now released our new High Improver dance, FIELDS OF ATHENRY, taught for the first time in our Celtic Duo 6.0 LIVE. We have also recently released our Advanced dance, Blindsided, and our Easy Intermediate dance, Tears of Gold, which we launched at our online Celtic Duo Christmas event.
---
☘️ FIELDS OF ATHENRY ☘️

To celebrate St.Patricks Day tomorrow, Gary & I have choreographed a BRAND NEW dance to share with you all. We were lucky enough (excuse the pun) 😂 to find a great remixed and upbeat version of the classic "Fields Of Athenry" and we love it. We hope you will enjoy teaching & dancing our new dance to your dancers this week to celebrate everything Irish 💚

We taught "Fields Of Athenry" for the first time on Saturday during our Celtic Duo 6.0 live event. Thank you so much to everyone that joined us for a fun-filled evening of music, song, dance & fun. A big THANK YOU to Michelle Risley for joining us to judge the "QUEEN OF IRELAND" contest which sadly saw me lose the crown to the new "Queen Of Ireland" Assumpta Murphy 😂

Stay safe, keep dancing & be kind... x
---
😍 I am very excited to announce that Gary & I have choreographed a BRAND NEW BEGINNER level line dance called "Make That Call", to the lovely country track "Reach Out" featuring a host of Irish Country Stars! We are looking forward to teaching it at Celtic Duo 6.0, which is going to be a great evening of workshops, social dancing and lots of fun. We both love the track & the lyrics are so poignant especially at this time! 😍

Ironically, the track has come at the perfect time, as I have just launched a new and exciting initiative 💚

It's called Dial A Dancer. Please see my Home page for details. 📱

Stay safe,
Maggie 😍
---
☘️ ☘️ Thank you so, so much to everyone who joined the CBA After Party social at the end of February ☘️ ☘️

There were so many dances we couldn't show at the Crystal Boot Awards so it was great to show all the videos and have another great night.

Thank you so much to all the instructors and choreographers, who provided their videos back in January.

Gary, Grace & I had a great time hosting the evening and are thrilled that £1200 was raised. Betty, Gary, Grace & I are overwhelmed with so many lovely text & emails from people saying how much they enjoyed the evening, "a great mix of dances and even had sore feet". We are so pleased you all enjoyed it, at the same time raising funds for the fabulous LDF. Thank you so much 💚💚
---
😍😍 Celtic Duo 6.0 😍😍
⭐⭐⭐ presents ⭐⭐⭐
🎉☘️💚 2021 St. Patricks Celebration 💚☘️🎉

SATURDAY 13th MARCH
with Gary & Maggie
Starting @ 5PM GMT
Gary & I are thrilled to be able to continue dancing with you all & look forward to celebrating everything Celtic ☘️

Everyone Welcome!!!
Tickets 🎫 ONLY €12
REGISTER HERE - please click:

CD 6.0 Registration
Please tick "Family & Friends" when registering 😍

Don't have PayPal but you'd like to join us?? We can help you with that 💚

Thank you so much for your continued support it means more than you know!
---
☘️ ☘️ MAGGIE G SOUTHPORT MARCH 2021 ☘️ ☘️

Sadly my Maggie G Experience Southport weekend in March is postponed until 10th-13th December 2021. This will be a Christmas Special with guest instructor, Gary O'Reilly. We have some spaces available if anyone would like to join us at The Prince of Wales hotel. Please contact Pauline Baycroft.

We will also be back in Southport on 25th-28th March 2022 with guest instructors Jose & Guillaume. If you would like to join us please contact Pauline Baycroft.

We would love to see you if you are free to join us.
☘️ ☘️ ☘️ ☘️ ☘️ ☘️ ☘️ ☘️ ☘️ ☘️ ☘️ ☘️
---
💎 💎 CRYSTAL BOOT AWARDS 💎 💎

I was so honoured to have been asked to be part of the 25th Annual Crystal Boot Awards this year which was just wonderful. It was so lovely to see so many beautiful memories and look back on the special memories and special friends who have made the awards what they are today. A massive thank you to Betty for working so so hard putting all this together and to Kelly for broadcasting the show to all our homes. It was lovely to see Betty & Steve together presenting the awards.

This year I was fortunate enough to be able to teach a Brand New Dance with Gary. Gary & I have not had the opportunity before to teach together at the awards so this year was extra special for us both. We taught our Brand New dance "Blindsided" and are thrilled with the response from the dancers. Thank you so much to Margaret Hains for sharing this gorgeous music with us. Gary & I adore it 💚
For Blindsided script, please see the Latest Dances page.

I enjoyed all the workshops and look forward to sharing them in the coming weeks online. It was so nice to see the wonderful Blaire teaching her new little dance. She is a star.

I was very proud to see Celtica perform. It brought back many great memories for me seeing them online. Thank you Betty for including Celtica.

Gary & I are over the moon to have won Intermediate Dance of the Year with "Faithful Soul", Advanced Dance of the Year with "All I Need To Know" and overall Dance of the Year with "Faithful Soul". We cannot thank everyone enough who voted for our dances and in particular we are thrilled to have won with "Faithful Soul" two years running. We just can't believe it.

"Faithful Soul" is a haunting track & we know it has touched so many hearts and we look forward to dancing it with you all for many years to come. Winning with "Faithful Soul" has been very bittersweet as it brings back great memories and equally very sad memories of losing our lovely Padraig ❤️

I am very proud of Gary on winning Male Personality again this year. He deserves every success for all he has done all year. Congratulations to each and every nominee and winner. You are all superstars.

As a member of the Hall of Fame, it was lovely to see Big Dave welcome our new inductee Chris Watson from Australia. This is a very special recognition of someone's work and I know that Chris & his family will be so proud of him.

I would like to thank all of those who have joined me online in 2020 and also those who have continued to support Gary & I's Celtic Duo Live events. A special mention to Debbie, Keeley & my son Sean for all your support online over the last 10 months.

Thank you so much Betty for a truly amazing weekend. You have reminded us all of how connected we can all be in the Linedance world even if we are not physically together.

Maggie ☘️
---