Line Dance Club Classes
My line dance classes in Coventry, which I started over 20 years ago, cover all dance levels from Absolute Beginner to Advanced. If you have never tried this fun type of dancing, then you will be most welcome at my Monday evening class. No partner is needed and it is a great way to socialise and make new friends. Please contact me if wish to join. (See Contact Us page.)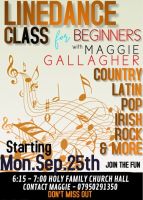 | | | | |
| --- | --- | --- | --- |
| Class | Day | Place | Level |
| Maggie | Mon 6:30 - 7:30 | Holy Family | Beginner / Improver |
| Maggie | Mon 7:30 - 9:30 | Holy Family | Intermediate |
| Audrey | Tues 11:00 - 13:00 | Holy Family | Improver / Intermediate |
| Maggie | Wed 7:30 - 9:30 | Holy Family | Intermediate / Advanced |
| | |
| --- | --- |
| Place | Location and Map |
| Holy Family Church Hall | Penny Park Lane, Keresley, CV6 2GU |
Line Dance On-Line Classes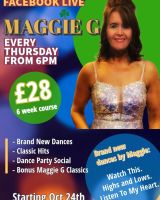 I am pleased to announce that I am inviting you to join my weekly ON-LINE CLASSES, LIVE via my Facebook. I will be recapping old classics and teaching brand new dances. On the last Thursday I will host a fun dance party social night. Everyone is welcome!

Each course of 2-hour on-line classes are held on Thursdays. The next course commences Thursday 6 January and runs for 5 WEEKS starting at 18:30-20:30 UK time. The cost for 5 weeks of dancing is £22.

Payments are via paypal.me/maggieg332. Please remember to select the "Friends & Family" option. Please contact maggieginfo@aol.co.uk for any more details. Should you encounter any problems, please do not hesitate to contact me via email, text or whatsapp. (See Contact Us page.)

After making payment please request to join our Facebook group. The classes will be live on our group and all classes are saved in videos. If you can't make the class, don't worry it will be saved in the group and you can view at any time.

Join me wherever you are in the world! If you don't have Facebook, it is possible to watch the video later. If you would like to join us, please get in touch.

Let's all get together and keep dancing & smiling through this difficult time. Please let Keeley or me know if there is anything you would like me to teach.

Your support is always much appreciated. 😊

Love Maggie xx
Tap Dance On-Line Classes
If you ever fancied tap dancing for something different, now is the time to have a go.

My Tap In Line "Absolute Beginners Class" is in aid of the Line Dance Foundation Secret Santa appeal. You can quickly learn the basics of tap and catch up by re-playing the classes whenever you wish. Having fun and raising funds.

The course of five weekly half-hour classes costs only £10. First class starts Thursday 2 December, 18:00 UK time. Follow this link to join the course: LDF Fundraising.
Club Socials are held at the Holy Family class venue, 7:30-11:00pm (unless otherwise stated).

For any further line dance club details, please Contact Maggie.