Welcome
Celtica Academy is a Coventry-based Irish dance school founded by myself, Maggie Gallagher. It offers classes for children aged from four upwards across a range of nights. We believe Irish Dancing is a hobby and we aim to provide a safe and enjoyable environment for all our pupils.

Celtica Academy is suitable for those that wish to attend just once a week as we do not enter our pupils in competition. Our classes enable pupils to gain confidence, make new friends, have fun and get fit at the same time as learning and improving technical ability.

We provide the thrill of on stage performance at Coventry's Belgrade Theatre every other year. This opportunity is open to every child and is staged at a professional level. Our 2018 show was a huge success and we raised over £9,000 for various charities!

Our senior troupe performs both locally and internationally. We are well known for our local fundraising and are proud to say our current total is in excess of £60,000.
I am also known professionally in the line dancing world as Maggie G, both nationally and internationally. During my line dance tours and at events, I give demonstrations of Irish dancing when requested.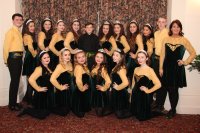 You will find links on this page to all my Celtica Academy Irish dance classes, news and events.

Irish Dance Classes
My Irish dance classes opened in 1990 and are held in Coventry at Allesley and Coundon. These cater for all age ranges from the very young to the more mature. These classes are part of my Celtica Academy Irish Dance School. Fun classes for our youngest pupils include those aged 4. You or your children will be made most welcome at our classes. For more details, please see the Irish Classes page.
Celtica Academy Dance Troupes
My Celtica Academy Irish dance troupes are trained in my Coventry-based Celtica Academy Irish Dance School and we give enjoyment performing at dance events nationally and internationally. Countries in which our senior troupe has performed include Monaco, France, Holland, Spain and Ireland.

We are well known for our local fundraising and support charity events when we can. We are proud to host a Charity Show every two years at the Belgrade Theatre in Coventry.
Celtica Achievements & Memories
I am so proud of everyone at my Celtica Irish Dance Academy. Special thanks to my good friend Gary O'Reilly for putting together a video of our wonderful achievements and these fantastic memories.

I hope you all enjoy this Celtica Video as much as I have.

Much love and hugs to you all 💚🍀💚🍀💚
Maggie xx
St Patrick's Day 2023
We had a very busy ☘️ St Patrick's Day ☘️ dancing at several venues around my home town of Coventry. We were very glad of the biscuits Elisa from France made for us. 🙏

I am so proud of Celtica, also, my boys, who played Irish music. It was very, very busy but we had so much fun. Special times. ☘️💚💚 Thank you to everyone for your lovely messages. 💚💚
Love Maggie xx